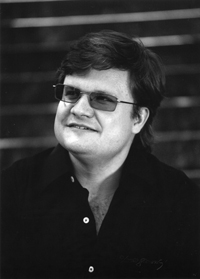 Václav Dvořák (1976) started his violin studies at the age of five with Prof. Zdeňka Tomková, and continued at the Brno Conservatory with Prof. Jan Stanovský, the concertmaster of the Brno Philharmonic Orchestra. He graduated from the Academy of Performing Arts in Prague from the class of Prof. Václav Snítil, and he finished his studies at the Royal Danish Academy in Copenhagen under renowned Prof. Milan Vítek.
He participated in many master courses in Israel, Denmark, Czech Republic and Austria under leadership of such masters as Shlomo Mintz, Ida Haendl, Boris Kuschnir, Felix Andrievsky, Sylvie Rosenberg and others. He studied chamber music with Milan Škampa (the Smetana Quartet) and Tim Frederiksen, and also participated in masterclasses under the leadership of Norbert Brainin (the Amadeus Quartet) or Valentin Berlinsky (the Borodin Quartet).
Besides Czech national violin competitions, he gained many achievements through various international competitions: Jaroslav Kocian International Competition (1990), Competition in Semmering (Austria, 1997), Václav Huml Competition in Zagreb (Croatia, 1997), Carl Nielsen International Violin Competition in New York (USA, 1999). He gave concerts in the Czech Republic, in Denmark (Tivoli Hall), in France at the "Ballades a Bourges" Festival, as well as in Austria, Belgium, Bulgaria (Bulgaria Hall, Sophia), Croatia, Finland (Finlandia Hall, Helsinki), Germany (Konzerthaus, Berlin), Netherland, Italy, Israel, Japan, Slovakia, Sweden, Switzerland, and USA. In May 2007, he toured Japan not only as a soloist in several recital programs, but also as a soloist with the orchestra.
As a soloist, he co-operated with the Czech Chamber Philharmonic, Bohuslav Martinů Philharmonic Orchestra Zlín, West Bohemian Symphony Orchestra Mariánské Lázně, Orchestra of DKDM in Copenhagen, Beppu Citizen's Symphony Orchestra, Chamber Orchestra Musicordes, Brno Chamber Orchestra, Biber Chamber Orchestra, or Suk Chamber Orchestra. He worked with well known conductors such as Klaus Weis, Antonín Kuhnel, Petr Vronský, Vojtěch Spurný, Petr Chromčák, Daniel Glineur, Tomáš Netopil, Marek Štryncl and Marek Valášek. He also co-operated with many chamber ensembles, such as Stamic Quartet and Wihan Quartet.
He often co-operates with Suk Chamber Orchestra and Czech Nonet. He has participated in a very successful 2004 USA Tour of the Czech Nonet. In 1998-2000 he served as a principal violinist of the Slavonic Quartet in Denmark, in 2001-2003 he was the first violinist of Václav Dvořák Quartet and, at present, he is the leader of the Doležal Quartet.
He has received many reviews from prestigeous press: The Strad: "... he has a large, attractive sound ...", Le Courrier: "... he showed his virtuosity in Dvořák's Mazurek and in the beautiful interpretation of Kreisler ... his playing is good promise for the future ..." Shlomo Mintz stated: "I have heard Mr. Václav Dvořák perform and I can say that he is a very talented, mature violinist. I am positive that he will treat all the pieces of his repertoire with great responsibility and unique interpretation."
Václav Dvořák performed on a valued Antonio Stradivari violin (1716) from the Royal Danish Academy of Music (RDAM) collection for a few years. So far he recorded for radio and television broadcasting companies in Czech Republic, Denmark, Israel, Japan and USA.
As a professor of violin, he participates in masterclasses in Czech Republic as well as abroad. In 2003-2007 he worked as a professor of violin (Prague Conservatory, Janáček Academy of Music in Brno). At present, he is the violin tutor and also the artistic director of the Prage Summer master courses.
In 2007, Václav Dvořák has released new CD with compositions by B. Smetana, A. Dvořák and with the world premiere recordings of Heirich Wilhelm Ernst's Nocturno and Bolero.